Courting Grebes!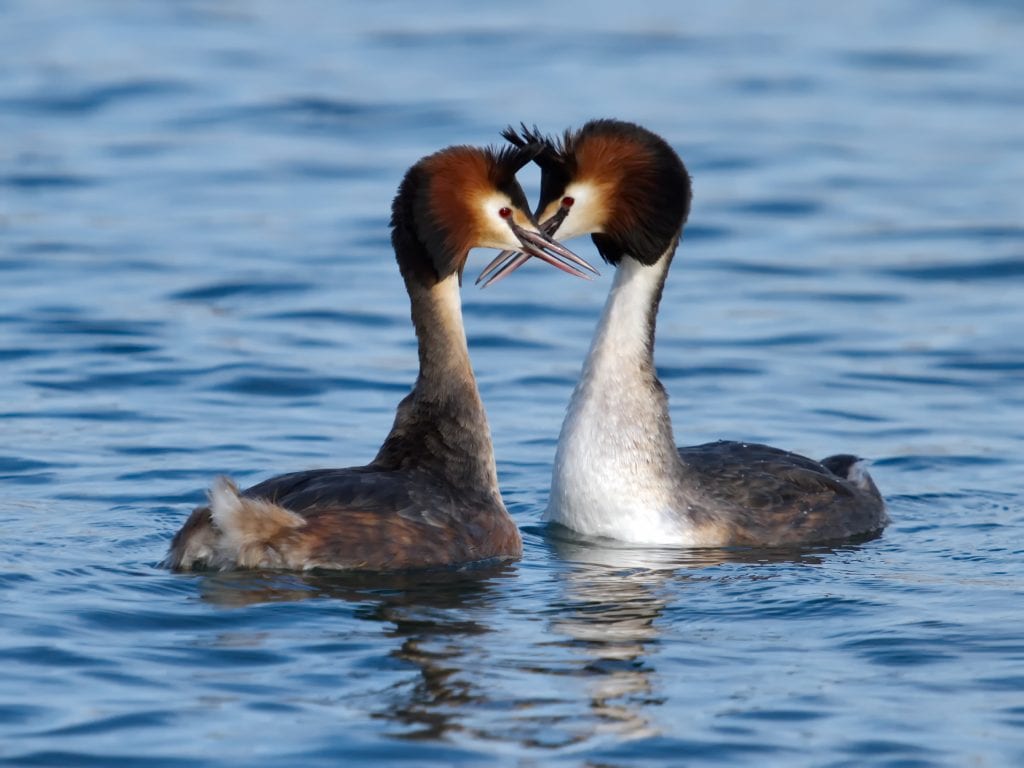 Welcome to Grebe Cottage!
Many of Broomhill Manor's cottages are named after local birds! This week's featured cottage is Grebe and here are some quirky facts about its namesake – the resourceful little diving bird!
Grebes are small to medium sized birds with pointed bills and dense plumage

They are excellent swimmers and can adjust their buoyancy, often swimming submerged

They have large feet with lobed toes which work like the blades of a propeller in the water

They have a varied diet from fish, to freshwater insects, crustaceans and their own feathers!

Grebes are less timid than ducks and rarely fly from danger – they will dive under the water

They can run short distances but are prone to falling over due to the position of their feet!
Grebe cottage is also a little quirky, being half up and half down! The fully renovated cob barn is built on a slope with 2 storeys at the back, one and a half at the front and the front door in the middle level (a picture tells a thousand words!)
You enter the cottage up several steps and into an open plan living room with high feature ceiling and calming natural tones, shades of teal and turquoise. The lounge area has 2 large, comfy settees to relax after spending time in the pool, games room and play areas or at the many local beaches! For home cooking enthusiasts, the dining area and kitchen is very well equipped with quality utensils and cookware. Or if you prefer to take it easy and let someone else prepare your meals, then try the in-cottage dining service – a delicious choice of home-cooked meals which are delivered direct to your cottage ready to pop in your oven!
Heading downstairs in Grebe Cottage, there are two light and airy en-suite bedrooms – the master bedroom has a king-sized bed and en-suite shower room and the second bedroom, (which sleeps 3 people in a single and bunks), is great for families with 3 children and is also a popular choice for a family with 2 children, holidaying with mum, dad and a grandparent. The second bedroom will accommodate a cot if you have a toddler with you and there is a handy en-suite bathroom for bath time!
Grebe Cottage is convenient for the indoor pool and has your own enclosed seating and BBQ area outside your door. If you are holidaying with friends or an extended family group, Grebe also works very well with neighbouring cottage Dunlin.
Grebe Cottage at a glance:
Large airy living accommodation

Sleeps 5 in 2 bedrooms, both en-suite

Handy for indoor pool and spa facilities

Enclosed outdoor dining and BBQ area

WIFI and all utilities included in price
Grebe Cottage is ideal for:
Families of 5 – mum, dad and 3 children (or 2 children and grandparent)

Toddlers – all toddler equipment provided free of charge and cottage is close to facilities

Extended family groups with next door cottage Dunlin
Read some of the comments Guests have written in Grebe Cottage visitor book – :
"Our house was lovely to live in as it felt relaxing, spacious and the perfect holiday home"
"We were so impressed with our cottage and the grounds. Beds very comfy and great powerful showers with a great kitchen completely fitted out"
"Cottage fabulous and pool is close enough to run there and back in swimwear, even in November!"
"I love staying at Broomhill Manor because of all the good memories I have. I love my bedroom with the special window. This is the best place EVER!!"