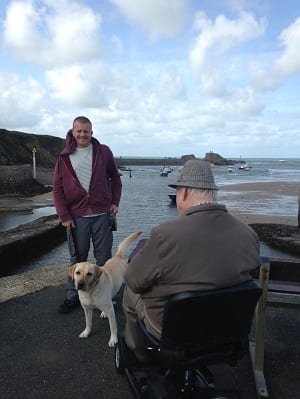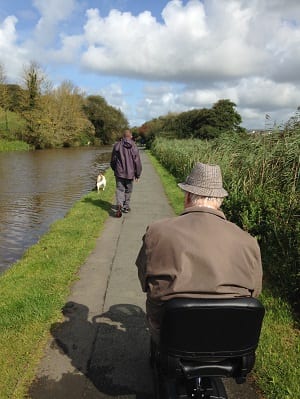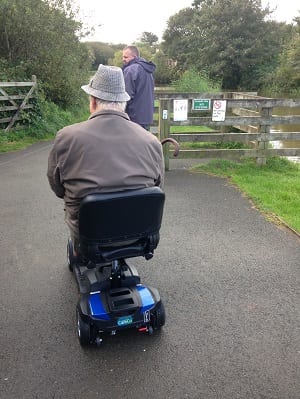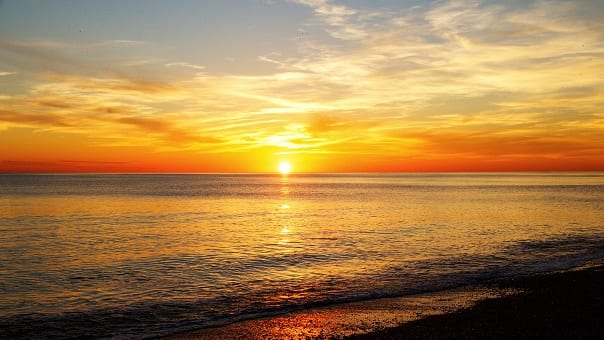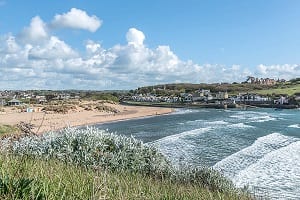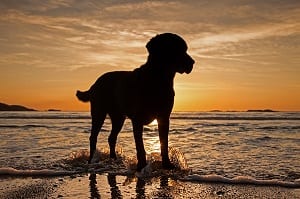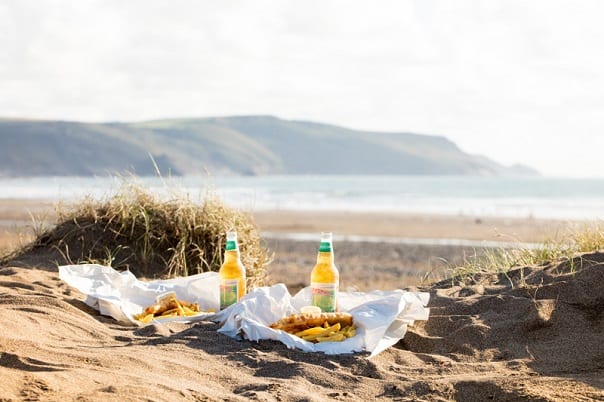 A couple of weeks ago, I was contacted by a returning guest who was getting ready to stay at Broomhill Manor during September. She had booked a dog-friendly cottage to bring their dog Lucy and they had also invited "Dad" who, in his late 80's, found that standing and walking for any length of time had become a bit of a challenge.
His daughter wanted to know whether there was anywhere they could hire a mobility scooter during their stay. We have some guests that bring their own wheelchairs, but this was the first time we had been asked about hiring one. I set about doing a bit of research starting with a visit to the local Tourist Information Centre – if anyone would know the answer, I knew they would!
As I arrived at the TIC, I experienced that peculiar law that says "once you become aware of something new, you see it all over the place" and a mobility scooter with "Hire me" and a phone number drove past! On checking with the TIC, I found there are three local places that hire them out; I picked the one that supplied our kids' bikes a few years ago and set off to see what they had to offer. Who knew there was so much choice! The owner was very helpful explaining the differences and was happy for me to take a couple of photos to send to the guest.
The guest decided to go for a buggy that could be easily taken apart and stowed in the car which meant that not only could Dad get out and about around Broomhill Manor, but they could also go out for day trips and take Dad (and Lucy!) with them.
On the day before they were due to arrive, I went along to collect the buggy. It couldn't have been easier – a quick demo to show how to operate it and then it was quickly dismantled and loaded into my car so that it was ready and waiting outside the cottage for when the guests arrived.
It was wonderful to see "Dad's" face when he realised he had his independence back and his own way of getting around; he got straight on it and set off exploring immediately!
We received this feedback about their "Buggy Experience!":
"Broomhill Manor was perfect with easy walkways for the buggy to travel – including almost up to the door of the bar (with a few steps up).
Our cottage was comfortable and quiet, and being all on one level, it was easy for Dad to get around under his own steam; he could also travel around the grounds in his buggy and see the beautiful gardens. Linda assisted in finding buggy and dog friendly places to visit, and places to eat where we could take the buggy with us.
Dad was delighted to be able to travel along the Bude canal path for some distance and then along the Wharf to the edge of the beach. We stopped for a delicious lunch on the Wharf on our return. Apart from those plus points we were able to use the lovely pool and Jacuzzi and there were walks for Lucy straight from our front door up the lanes (Dad could join us too!)"
Thank you to our guests for providing a useful insight to their holiday! If you are visiting Bude with a family member who needs a bit of help with getting around, then please get in touch – we will do our best to help!
Here's a few more reasons for enjoying an autumn break in accessible Bude:
The local beaches are REALLY quiet – ideal for a gentle stroll along the shore or a more exhilarating walk on the South West Coast Path

The sunsets are stunning – grab some local fish and chips and sit on the beach to watch the rainbow colours as the sun sets against a backdrop of a vivid blue sea!

Your favourite restaurants are easier to get into – Cornwall is well established as a foody destination having access to wonderful fresh ingredients and artisan producers.

You don't have to queue for anything, the roads are clear and you will not have to spend ages trying to find somewhere to park!

And of course, accommodation is great value out of season which means you can treat yourself to that extra bit of luxury! Why not go for a cottage with a hot-tub or indulge in a spa treatment or chef-prepared meal while you are here?
All the facilities are available – including heated indoor pool and outdoor pools (outdoor pool open till mid-late September – subject to popularity!), horse riding, tennis court, Jacuzzi, gym, sauna, bar and snooker room, Under 6's playroom, table tennis, pool and table football.